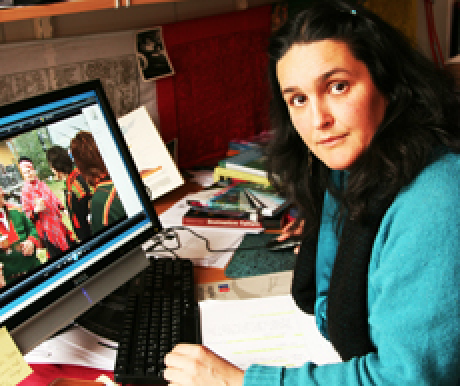 Rossella Ragazzi
(Italy / Norway)
Rossella Ragazzi, (MA, PhD), born in 1965 in Rome,  was senior lecturer at Tromsø University, Norway, department of Visual and Cultural Studies and currently Post Doc in Museum Studies & Media Anthropology at Tromsø University Museum.
Email:
rossella.ragazzi@uit.no
Among her documentaries:
L´Altro Sguardo (1996);
La Mémoire Dure (2000);
At Home in the World (2003);
Firekeepers (2007).
Recent articles:
Teaching Cine-Ethnography (Visual Anthropology Review, March 2007);
Insegnare il Cinema Antropologico, (in: Ricerca Folklorica 2008);
Dwelling between Barn and Kitchen with a Camera (in: Challenging Situatedness Delft, 2005);
Memory, Resistance, Speaking the Self (in:Reflecting Visual Ethnography, Leiden and Århus 2006);
Il Futuro del Cinema Etnografico (in Antropologia Museale, Roma, 2006);
Migrant Children and the Performance of Memory: a film-fieldwork (in Projecting Migration, London 2007).
Books:
"Walking on Uneven Paths: The Trancultural Experience Children entering Europe in the years 2000" Peter Lang, Berne, 2009.
WEBSITE UNIVERSITY:
http://www2.uit.no/ikbViewer/page/ansatte/organisasjon/ansatte/person?p_document_id=42614&p_dimension_id=88180