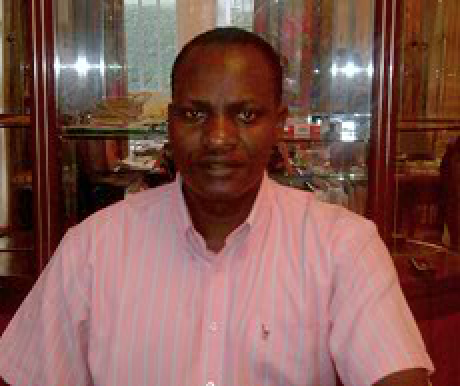 Désiré-Salomon Mwendanga Musengo
(Democratic Republic of Congo)
Cité Mama Mobutu, Villa 582,
Commune de Mt NGAFULA, Kinshasa, Democratic Republic of Congo
Mobile telephone: 00243-851762321
Email:
irambira@hotmail.com
Email:
desmwengo@innocent.com
Completed a PhD in Anthropology (2007) at Renmin University of China in Beijing with Prof ZHUANG Kongshao; Dissertation title: The Effects of Bride price Practices on African Women, including a 45-minutes 'visual anthropology' documentary on: "Women and Cows Story". Completed also a Master degree in Journalism and Communication (2004) at the Central University of Nationalities, Beijing, China.
Strong career interest in combining ethnography and bioethics in the Francophone African context. Currently member of the Centre Interdisciplinaire de Bioethique pour l'Afrique Francophone (CIBAF) at the Kinshasa School of Public Health attached to Kinshasa University; currently developing curriculum materials and research agenda for anthropology/bioethics within CIBAF. He is current administrator of the Francophone African Bioethics Blog
(
http://www.bioethiqueafriquefrancophone.blogspot.com/
)
Skilled in contemporary practices of journalism and ethnomusicology. He has been an Expert Consultant at China Radio International (2003), held key editorial position within the French Department of this well-known international radio station
Professor of French at Central University of Nationalities (2003-2004), handled standard administrative and pedagogical functions within the French Department.
Extensive linguistic knowledge, including fluency in Chinese, French and English, Lingala, Swahili and Mashi.
Adept at learning new concepts quickly, working well under pressure, and communicating ideas clearly and effectively. Experienced in working in foreign social settings, he was a Consultant in UNICEF/Beijing (2001), worked within the greeting card division.
Producer and Presenter at the Congolese National Radio and Television (RTNC) in Kinshasa,, he designed, directed and presented cultural programming for the TV station (1992-1997).
Participation in many international symposiums such as the 16th international congress of Anthropological and Ethnological sciences holded in Kunmin/China: "Traditional Culture and Social Development" (July 28th 2009), the Place of Anthropology in Public Health, held at the University of Renmin of China, Bejing (November 2005), a workshop on cultural exchanges between China and Africa at the Central Conservatory of Music, Beijing (May 2001). He was invited by CCTV (China Central Television) to participate in the documentary "A Passage to Africa" (May 2003).